🌎 Remote Students Newsletter - 10/3
Startup advice from Founder of Quizlet, AMA with Experience Designer at Airbnb, gap year socials
Hey remote students! 👋
As recruiting season ramps up, we're excited to bring you more opportunities than ever. If you want to hear about our internships/jobs a few days before everyone else, get early access here. Here are our recent announcements and upcoming events:
📚 Startup advice from Andrew Sutherland, Founder & CTO of Quizlet
🏆 Remote Students Startup Pitch Competition
🎙 AMA with Experience Designer at Airbnb
---
🙌 our top internships
technical:
✨ Blend - Software Engineer Intern | Build new features and functionality for mission-critical software for major mortgage lenders
✨ Lucid - Software Engineer Intern | Design, develop, and deploy software in the cloud-based visual productivity solutions space
✨ Pocket Gems - Software Engineer Intern | Work for the company behind the classic mobile game War Dragons
✨ Virtru - Data Analytics Intern | Email encryption and digital privacy company
✨ Merck - Data Science Intern | Help advance drug candidates into development by defining the safety and selectivity of certain lead compounds
✨ Tesla - Vehicle Hardware Engineer Intern | Tesla is accelerating the world's transition to sustainable energy
non-technical:
✨ Alloy (YC W20) - Growth Intern | Looking for people with running e-commerce stores to help grow this hot no-code startup
✨ Figma - Product Design Intern | Help build the future of design tools
✨ Redfin - Product Management Intern | Help revolutionize the $75B real estate industry
✨ Cloudflare - Product Management Intern | Build software for the network that powers trillions of requests per month
✨ Lookout - Social Media & PR Intern | Develop creative social media strategies to engage with B2B and B2C audiences
✨ Anthos - Venture Capital Analyst Intern | Work directly with investors to help source deals and evaluate potential investments
✨ Apple - Business, Marketing, and G&A Intern | Learn, grow, and contribute to Apple's business while working on exciting projects alongside top professionals
---
🤩 our top new grad & full-time
technical:
✨ Qualtrics - Software Engineer | Build systems to help clients understand and respond to experience data provided by their customers
✨ WillowTree - Software Test Engineer | Explore software testing on multiple technical platforms for this digital product agency
✨ Wish - Software Engineer, Data | Build one of the fastest growing and largest eCommerce startups
✨ NVIDIA - Solutions Architect | Dynamically engage with developers, scientific researchers, data scientists, IT managers and other senior leaders
✨ Lam Research - Electrical Engineer | Lam Research helps build smaller, faster, and more power-efficient devices
non-technical:
✨ Veeva Systems - Product Manager | Enterprise cloud technology that powers the biggest names in pharma, biotech, and consumer
✨ Expedia - Product Manager | Transform how millions engage with websites, apps, and bots through the creation of a virtual agent platform
✨ Neeva - Product Marketing Manager | The world's first ad-free, private search engine founded by Google & YouTube execs
✨ eBay - Financial Analyst | Help shape the future of global commerce
✨ Visa - Business Associate | Rotate through various parts of Visa including digital solutions, marketing, processing, product, and strategy
---
🙊 from the community:
Note: These links will only work if you are a full member of the community! Apply now to join.
🌎 Case Interview Advice from McKinsey partner
🌎 Insights from Interview with Greylock's youngest partner
🌎 Intro to Figma course taught by YC founder
🌎 Uber technical interview process questions?
🌎 Weekly socials for gap year students!
🌎 Work on a computer vision automated waste sorting bin
---
📆 upcoming events
10/5 - AMA with Experience Designer at Airbnb | Meet Hwanghah and ask about her work at Airbnb, Google, Microsoft, and the KPCB design fellowship
10/5 - 1:1 Resume Reviews with Cloudera | Meet the Global Early Talent & Diversity Recruiting Lead at Cloudera
10/6 - Hear it From Her: Panel on Investing | Candid discussion of personal experiences between female leaders in finance
10/7 - Women in VC Panel | Learn from a panel of amazing female VCs
10/9 - AMA with VC at The House | Meet Adithya and learn about breaking into VC right out of college
11/12 - Quant Insights Conference | Learn quant finance from renowned professionals and academics in the field
---
🥳 meme of the day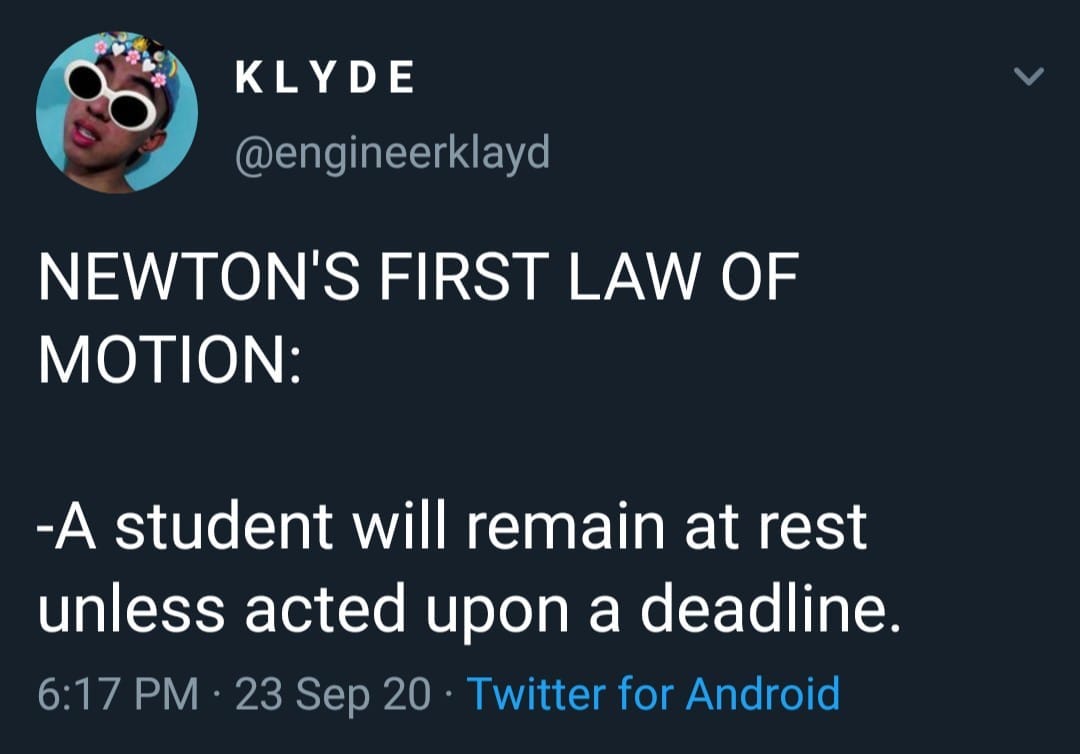 Source: Zoom Memes for Self Quaranteens
---
As always, you can find the entire list of curated internships and full-time opportunities on our website remotestudents.co, updated in real-time.
Stay safe and healthy! If you have any feedback on the types of roles or content you'd like to see, hit the feedback button.