🌎 Remote Students Newsletter - 9/26
AMA with KP Engineering Fellow, AMA with AI Researcher, Quant Finance community
Hey remote students! 👋
We have some exciting events and opportunities for you all this week! If you're not already a member of Remote Students, sign up here so you don't miss out! Remote Students members get first look at all our curated opportunities 👀
🎙 AMA with KP Engineering Fellow and Past SWE Intern at Uber
🎙 AMA with AI Researcher at Cornell's Autonomous Systems Group
💼 60+ open internship and full-time opportunities in quant finance
🏆 Remote Students Pitch Competition: Apply to pitch your idea to top judges from Bain Capital Ventures, 1517 Fund, and more!
🚀 Remote Students Campus Fellow | Work directly with the founders to propose and execute a growth & marketing plan to grow Remote Students at your university
---
🙌 our top internships
technical:
✨ Triplebyte Certificates | Take a coding quiz, earn a certificate, then showcase your skills! Share on LinkedIn, your resume, and elsewhere
✨ Lunchclub - Software Engineering Intern | Help build the AI to scale data-driven matches to thousands of people and groups weekly
✨ DoorDash - Software Engineer Intern | Contribute to a global infrastructure system that powers DoorDash's marketplace
✨ MemSQL - Software Engineering Intern | The No-Limits Database™ powering the applications and analytical systems of today
✨ DRW - Quantitative Research Intern | Solve challenging problems arising in a trading environment with statistical algorithms, ML techniques, and pricing theory
✨ Unisys - Data Science Intern | Develop AI/ML proof of concepts and deploy models into production for product offerings
✨ iCueMotion - Embedded Systems Engineering Intern | Independent research lab dedicated to human movement performance and learning
non-technical:
✨ Alloy Automation (YC W20) - Content Intern | Create content, manage user community, and do customer marketing for this no-code automation tool
✨ Spotify - User Research Intern | Have an impact on the way the world listens to and experiences audio content
✨ Superbolt - Growth Marketing Intern | Help disruptive brands grow online by owning and managing the entire marketing funnel
✨ Wish - Business Development Intern (Winter 2021) | Build one of the fastest growing and largest eCommerce startups
✨ Joor - Digital Events Intern | A digital wholesale management platform that transforms the way businesses work
✨ DRW - Investment Analyst Intern | Research and uncover investment opportunities to enhance your investing acumen
✨ HerCapital - Social Media or Partnerships & Sponsorships Intern | Send a resume to hello@hercapital.org to help women with personal finance and investing
---
🤩 our top new grad & full-time
technical:
✨ Scale AI - Software Engineer | From product to systems to infrastructure engineering, help accelerate the development of AI
✨ Osmind - Software Engineer | Improve clinical care while advancing research towards new treatments and precision health
✨ Palantir - Software Engineer | Transform how organizations around the world use data
✨ Quora - Data Scientist | Grow and share the world's knowledge
✨ Duolingo - Data Scientist | Make language education free, fun, and accessible for everyone in the world
✨ Enphase Energy - Embedded Systems Engineer | Contribute to the advanced operation and control of autonomous grid connection, management, and regulation
non-technical:
✨ eBay - Product Manager | Perform data analysis, draw insights, and define features for future products to change how people shop around the globe
✨ Zynga - Rotational Product Manager | Work with developers, artists, designers, testers, and others to get your ideas into the hands of millions of players
✨ Duolingo - Product Designer | Make language education free, fun, and accessible for everyone in the world
✨ Viasat - Product Designer | Help bridge the digital divide with the world's fastest satellite internet service
✨ Advantage Capital - Investment Analyst | Source, evaluate, and analyze investment opportunities
✨ Loxo - Business Development Representative | Help achieve revenue growth objectives for the leader in AI recruitment automation software
---
🙊 from the community:
Note: These links will only work if you are a full member of the community! Apply now to join.
🌎 ML Internship @ Broad Institute of MIT and Harvard
🌎 Probability, Statistics, and Finance course on Brilliant | Remote Students gets 20% off using this link
🌎 40 Probability, Statistics, and Data Science interview questions asked by Wall Street & FANG companies
🌎 Live AMA with McKinsey & Company
🌎 AI/ML Panel | Featuring Yu-Ting Kuo (VP of Computer Vision, Microsoft), Jordan Harrod (AI YouTuber), and Kat Stam (AI and Space Tech startup founder)
🌎 Join a non-profit tech startup with Team Keep
---
📆 upcoming events
9/26 - Resume Roast: Design Edition
9/27 - AMA with KP Engineering Fellow and Past SWE Intern at Uber
9/28 - Citadel The Data Open | Compete to win $25k and get recruited for Citadel
9/29 - ASU + GSV Ventures Summit | Startup/VC conference focused on edtech
9/29 - AMA with AI Researcher at Cornell's Autonomous Systems Group
10/1 - IvyHacks | Ultimate virtual hackathon conference; hear from CEOs of Y Combinator, Wikihow, & Duolingo
---
🥳 meme of the day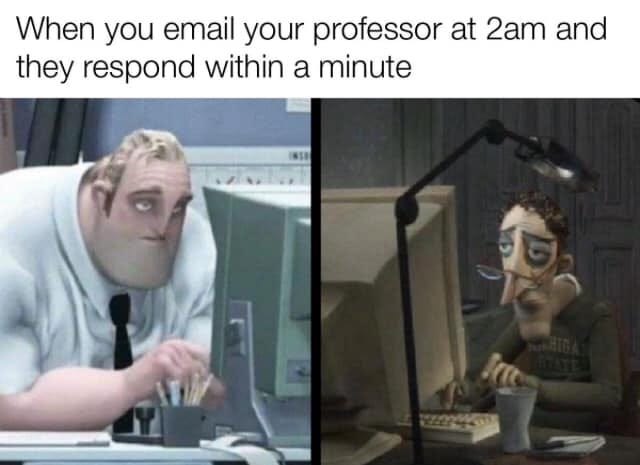 Source: Zoom Memes for Self Quaranteens
---
As always, you can find the entire list of curated internships and full-time opportunities on our website remotestudents.co, updated in real-time.
Stay safe and healthy! If you have any feedback on the types of roles or content you'd like to see, hit the feedback button.